This is one of the first recipes I ever posted on my blog, back in its Wordpress days. You may have noticed a few other carrot creations on my site, so you've probably figured out that it's one of my favourites. It's also not going to be the last you see of it!
I've been wanting to update this recipe for a while and I have finally gotten my ass in gear to do so! But, for your amusement, I've left in a few of the photos and text from the original post. (I thought I was the shizz back then with my little 350D and kit lense, now I'm humbly embarrassed by my older shots and am also reminded that I'm probably still not the shizz now!)
Not only have I botoxed, tummy tucked, lipo'd and chemically peeled this recipe, but it's also gone under the knife. That is, the editors knife, to cut a video of said rejuvenated carrot cake. (Not sure how I ended up in this metaphor, but I'm scrambling my way out of it very quickly!
Not bad, eh? I saw a bit of head bobbing going on there! I had a bit of fun making it. I also enjoyed the eating of it. (NOT ALL OF IT, GREGG! I PROMISE!)
Right, so, carrot cake. Take it away, n00b blogger self of the past: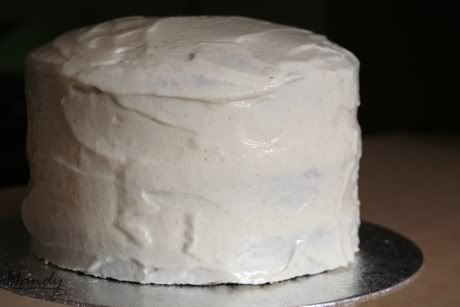 Out of all the wonderful flavours and variations of cake, Carrot Cake is my absolute favourite!
There's just something about it. It's a very unique flavour and you almost feel better about eating a slice because it includes veggies and the frosting isn't as sugar packed. I know it doesn't make a difference, it's still cake, but who cares! I love using vanilla seeds in the icing, the little flecks not only add great flavour but they give the icing an interesting look. Also, anything with pecan nuts is a temptation to me!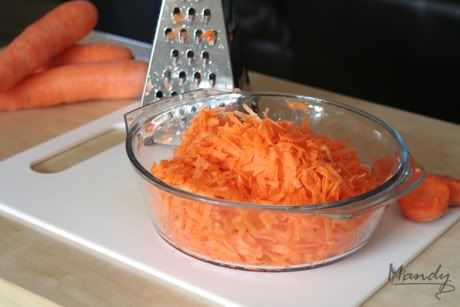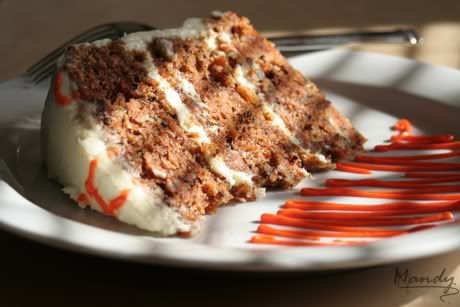 My mom would sometimes take me to our favourite coffee place after school as a treat, they had the best carrot cake and it would be the only cake we'd order time after time. It was 3 layers of carrot cake heaven, soft, moist, not too sweet, the perfect cream cheese frosting. 3 layers are especially good because you get the extra layer of icing! My mom eventually got a recipe from somewhere and I was normally the one who baked it, I didn't mind :)
Awwww, wasn't I so cute back then! And so, SO bad with a camera!
I'm pretty sure that every person who has tried my carrot cake has said it's one of the best they've ever eaten. Now, carrot cake seems to be one of the more popular cakes out there, I've yet to meet someone able to eat cake who will pass up a slice, so I think that already gives my recipe an advantage. It's already liked. But, there are a few other things that I like to think contribute to the favouritism of my recipe.
One. I don't add raisins (blegh), and I most definitely don't add pineapple. Who?! Why?! Just, no!
Two. My cream cheese frosting isn't overly sweet. Honestly, why should frosting be so hopped up on sugar that it makes your teeth cry?
Three. I think this is probably my biggest "secret". I toast the pecan nuts before they go into the cake. I'm telling you, this step really does change the flavour!
Normally I like to make this recipe into a towering three-layered 8" cake, but it's just as good as a slightly larger two-layered cake. There's enough frosting for either, so no worries there.
It's a ridiculously easy cake to make and is perfect for anyone new to baking, and because of the carrots and oil, it's pretty much guaranteed that you'll end up with a lovely moist cake. Unless you're the type who can burn water. Then just stay away from the oven, your loved ones will thank you.
I hope you enjoy it as much as I do. Happy baking!
Carrot Cake - Serves up to 12
290g
10 1/4 oz
1 1/3 cups
Plain Flour
2 tsp
2 tsp
2 tsp
Baking Powder
2 tsp
2 tsp
2 tsp
Baking Soda
2 tsp
2 tsp
2 tsp
Ground Cinnamon
1/2 tsp
1/2 tsp
1/2 tsp
Nutmeg
300g
10 1/2 oz
1 1/2 cups
Granulated Sugar, golden or white
4
4
4
Eggs
250ml
8 3/4 fl oz
1 cup
Light Olive Oil / Sunflower Oil / Canola Oil
1 tsp
1 tsp
1 tsp
Vanilla Extract
1 tsp
1 tsp
1 tsp
Salt
400g
14 oz
4-5 medium
Carrots, grated
200g
7 oz
2 cups
Roasted Pecan Nuts, roughly chopped
Method:
Preheat oven to 180°C (160°C Fan Assisted) / 350°F / gas 4
Tip: To toast pecan nuts, spread nuts evenly in a baking dish and bake for 6-8 mins just as oven has come to temperature, then leave to cool while preparing the cake. Roughly chop when needed.
Line the bottom of three 8-inch/20cm or two 9-inch/23cm pans with parchment paper
Sift together the flour, baking powder, baking soda and spices, set aside
Beat eggs and sugar together, add oil, salt & vanilla, beat until well mixed
Add the dry ingredients to the wet ingredients and mix until combined, scraping the sides of the bowl as needed
Fold in grated carrot and chopped pecan nuts
Divide batter equally between cake tins
Bake until toothpick inserted into centre comes out clean, about 32-40 minutes
Tip: If baking in 8-inch cake tins, cakes should be done in 32-35 minutes, and longer for 9-inch tins
Cool pans on racks for about 15 minutes
Remove cake from pans, peel away parchment paper and cool completely on cooling racks before icing
Prepare Cream Cheese Frosting (see below)
Use ¾-1 cup of frosting between the layers and cover the cake with the remainder of the frosting. Sprinkle top of cake with chopped pecan nuts
Cream Cheese Frosting
170g
6 oz
1 1/2 sticks
Unsalted Butter, softened
540g
19 oz
3 pkts
Full Fat Cream Cheese, chilled
250-375g
9-13 oz
2-3 cups
Icing Sugar, sifted
1
1
1
Seeds from Vanilla Bean
(or 1 tsp vanilla extract or paste
Method:
Beat the butter until smooth and creamy in a large bowl, add the cream cheese and mix together until smooth
Add the icing sugar and vanilla, then start mixing on lowest speed until icing sugar is fully mixed in
Tip: Frosting may appear to go a bit soft and "soupy" at this stage
Increase the speed of mixer to highest and beat/whisk until frosting has thickened to a spreading consistency
Tip: Think of cream cheese just as cream. Keeping it chilled and then whisking/beating it on high speed thickens it up
Adapted from a handwritten recipe in the ol' family favourites file :)
Can be made a day ahead before frosting. Once cool, wrap each layer tightly in plastic wrap and store at room temperature.