There will always be those recipes that your mom made when you were a kid that you will love forever. For me it's peanut butter cookies. For my hubby, one of these recipes is Fridge Cookies.

When Andrew's parents came to visit us, Moms (as I call my mom-in-law) brought some of her recipes along as she had asked my permission to use my kitchen when they were over here (as if she needed to ask, but she's the best mom-in-law in the world so wouldn't presume anything :) )
She made us her fantastic onion cheesy bread (of which I'll post about later) and then these Fridge Cookies.
I'd never heard of or seen anything like them before. But I tell you, they're GOOOOOOD! And so easy! No wonder it was a favourite for her to make for the three young boys (and one older one!) in the house who probably ate everything in sight in bucket loads.
Basically, it's crushed Marie biscuits with raisins and currants held together by an egg and butter "glue" which is cooked on the stove, then the mixture is pressed into a dish and left in the fridge to set. Moms has also added the new addition of glacé cherries.
"Maries" are very thin, round cookies that are quite plain in taste, just simple vanilla, and they're quite dry and flaky. (I think every South African kid has at some point used these biscuits to make faces by sticking on sweets with simple water & icing sugar glue). In SA they're called Marie biscuits, over here in Ireland they're Marietta biscuits, in other countries it's Maria. They're very similar to Rich Tea biscuits. Have a look at Wikipedia for a list of other names and a better definition of what they are. Normally I try to post recipes that don't have a very specific ingredient, but I think it would be easy enough to find a substitute wherever you are.
They're chewy and sweet, with the occasional crunch from a slightly larger Marie biscuit piece. I've never had a cookie like it before, but now that I have had them, it's been very hard to resist making more! (We polished off the batch that Moms made in about 2 days!) These are quick and easy to make and have a really interesting texture and combination of flavours that will have you wanting more.
Ingredients
375g Marie Biscuits
230g Unsalted Butter or Margarine
1 cup Granulated White Sugar
2 cups Mixed Currants, Raisins etc
100g Glacé Cherries, washed
2 Eggs, beaten
1 tsp Vanilla Extract
Method
Grease a 24cm x 36cm dish (This does not have to be oven proof)
Put biscuits between 2 sheets of greaseproof paper
Using a rolling pin, crush the biscuits then set aside the biscuit crumbs
Melt butter and sugar over low heat
Add fruit and boil for 3mins, stirring often
Remove from stove and slowly add beaten eggs and vanilla, stirring continuously to avoid the egg from scrambling
Tip: You can also temper the egg like you would when making custard by adding a spoon of the hot liquids to the egg, then pouring it all back into the hot liquid slowly, stirring constantly
Return to stove and boil for another 3mins, stirring often
Remove from heat
Add finely broken biscuits and mix very well
Press firmly into a greased dish
Cut into squares and refrigerate until firm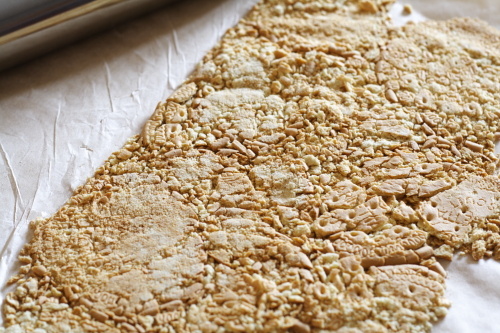 And easy way to crush the biscuits, put between greaseproof paper then use a rolling pin
Other Tips:
The reason for crushing the biscuits between two sheets of greaseproof paper instead of using a blender is because you don't want the biscuits to end up as a fine powder, but rather small crumbs and still some slightly bigger pieces which adds a nice crunch now and then
You don't have to keep these cookies refrigerated once they're set, just store them in an airtight container. Although, I quite like them straight out of the fridge
These cookies are very sweet so if you don't like overly sweet things, either cut these into bite sized squares, or reduce the amount of sugar by up to half
You could also add other things to the mixture like various nuts, dried cranberries or crystallised ginger