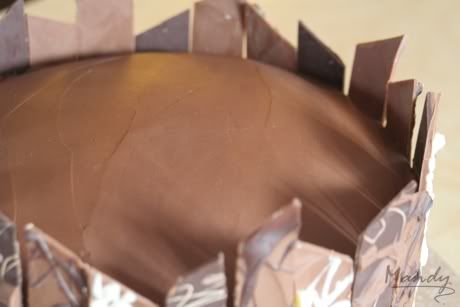 Ganache is decadent & silky smooth. It adds something special to any cake or pastry. I like to use it on my Devil's Food Cake instead of using a buttercream or fudge frosting, ganache is far less sweet than a traditional frosting but is more luxurious.

Ganache is very versatile, you can use milk, white or dark chocolate, or even a mix. It can be warmed up and used as a gorgeous chocolate sauce over ice-cream or crepes or to glaze a cake, or thick enough to spread or make a surprise filling in cupcakes, even thick enough to pipe, it can also be whipped to make a light and fluffy mousse for a filling or topping.

Since discovering how easy chocolate ganache is to make, it's become my favourite thing to use as a frosting. Not only is it easy to make, it's really easy to work with.
There are two ways of making ganache, the one method has butter as an ingredient, but the one I like to make is as simple as cream and chocolate. That's it! Just cream and chocolate. And my favourite way to make ganache for a chocolate cake is to use half milk chocolate & half dark chocolate, not too sweet, not too bitter. As with anything in baking, the better the quality of the ingredients, the better the taste, so if you're making a cake for a really special occasion, use a good quality chocolate for the ganache like Lindt. You can also add flavours to ganache. Add a few teaspoons of any liqueur like Frangelico or an essence like mint or almond.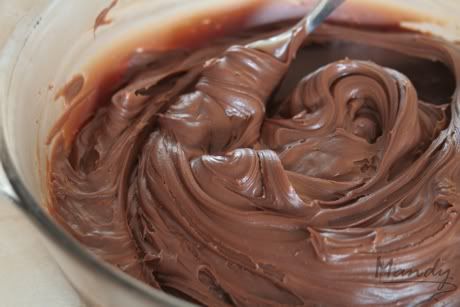 In researching on how to make ganache, many sites and books use different ratios, but what I find works is as easy as 1 part cream to 1 part chocolate. It's also really easy to remember when rushing around the grocery store ;)
So here it is, simple!
(This is enough to generously fill and cover a 3 layer 8" cake)
Ingredients
325 ml Double/Heavy Cream
325 g Chocolate (Milk, White or Dark)
Method
Finely chop/grate the chocolate and put into a heat resistant bowl.
Put the cream into a saucepan and heat until just about to boil.
Remove from heat and pour hot cream over the chocolate, using a whisk stir the cream and chocolate together making sure all the chocolate has melted and the mixture is smooth.
Refrigerate and stir with a fork every now and then so that it's all the same consistency until thick enough to spread (about 2 - 3 hours)
Tip: Basically, the longer you allow it to cool, the thicker the ganache, cooling it in the fridge speeds up the process but make sure to stir the ganache so that it cools evenly, also, keep an eye on it because it can become too thick for spreading if left too long in the fridge. If that does happen, allow to soften up at room temperature or using a water bath
Frosting a cake
Spread ½ a cup of ganache for each filling layer.
Spread a thin layer of ganache over the whole cake to trap any loose crumbs then spread the remainder of the ganache over the cake. Smooth the ganache or make swirls and patterns.
Tip: For a smoother and glossier look, spread the ganache with a heated metal spatula.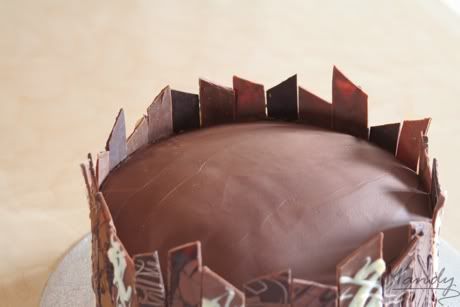 Adapted from Best Chocolate Recipes Online
Other Tips:
Once made, ganache can be stored in an airtight container in the fridge for up to a month
To soften ganache after being in the fridge, let it stand at room temperature or warm it up using a water bath
To whip ganache, allow to cool thoroughly at room temperature then beat until light & fluffy. Use immediately
To use ganache as a glaze, pour over your cake while still warm and soft
To add a liqueur or essence, stir in a few teaspoons (or more if you want a stronger taste) to the hot cream before adding it to the chocolate
You can also colour white ganache with paste or gel food colouring
Although you can get a good result with using a 1:1 ratio, there are some things you want to consider:
For a firmer ganache or if the weather is warm, you can decrease the amount of cream by up to 50%
For a softer ganache, add more cream