I have three favourite restaurants that I go to for great pizza, but I think of those three, Oliveto is my favourite for a few reasons.
The first reason is the location. It's in Dun Laoghaire right next to the water which makes for a lovely day out. There's a weekend food market open so you really can make a day of it by walking around the market enjoying the sea air and sounds before or after your meal.
Pizza with olives, rocket, parma ham and shaved parmesan
The second reason is all about the ingredients. Oliveto has slightly different ingredients to my other two favourites. For instance, they're not happy to settle for button mushrooms on their pizza, they use huge juicy oyster mushrooms instead. It's the small things that make the biggest difference.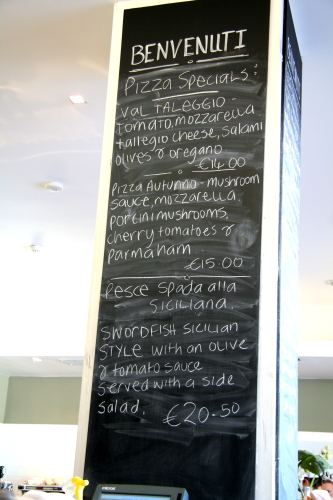 And the third reason is because of the variety on the menu. One day when I'm strong enough to tear myself away from ordering their incredible pizza, I'm going to try the veal, that no doubt will be tender and tasty. Or maybe one of the pastas, cream or tomato, because the ones I've seen at tables next to me are mouth watering just on appearance so I can only imagine that the taste will match the appearance. The starters are fantastic as are the desserts.
My favourite starter is the bread with pesto and marinated olives. It's a really simple thing to start with but I really do love it. The two different breads they serve are fresh thick slices, perfect for slathering with green pesto.
Cheese, artichoke and plump capers on the antipasti platter
You could make a meal out of the antipasti platter if it's just two of you but it's just perfect for a group of people. I had my birthday lunch there with friends and it was thoroughly enjoyed by all. Various cured meats, cheese, pesto, olives, marinated grilled vegetable, artichoke, juicy capers and fresh rocket all accompanied by the same amazing thick slices of bread that I love.
As I mentioned, I always have pizza when we go there. Made in a fired oven, the crust is lovely and thin which is what I prefer 'cause I think that a pizza is all about the toppings. I hate filling up on thick bread-like pizza bases, I want to enjoy the toppings!
Moms about to enjoy her vegetarian pizza
I love the Quattro Stagioni. Parma ham, juicy artichoke, those incredible oyster mushrooms and olives that I request in place of green pepper. Andrew's favourite is topped with olives, fresh rocket, parma ham and shaved parmesan.
Fresh gnocci with a tasty tomato pasta sauce
I'm told that the gnocci and risotto is a must try, and one day I will when I can resist the pizza ;) I'd also love to try the veal, I don't see veal on a menu all too often so missing out on this tender cut of meat really is a bit silly! But oh the pizza!!!
Going, going, gone!
Dessert. Mmmmmm. I always save room for dessert. We don't go there often so I pretend that having starters & dessert isn't going to count as extra calories ;) My favourite is the tiramisu. It's served in a giant cappuccino cup and the first time it was put in front of me along with my coffee, I wondered why I was getting two coffees! It's creamy and the perfect amount of sweet with just a hint of alcohol.
The cheesecake made with ricotta and a pistachio crumb base is also delicious. They sometimes also have chocolate salami on the menu. They also have a delicous range of gelato and a decadent chocolate lava cake.
The pizza process
The service is always great. Happy and helpful waiting staff make the meal even better!
The atmosphere is relaxed and they have room for larger groups of people. You can watch your pizza being made and put into the fiery pizza oven. Light floods in from the sea facing floor to ceiling windows. Shelves running along the one side of the restaurant are stacked with wines, dries pastas, giant cans of tomato, bags of rice and more. Simple decor but it's all it needs.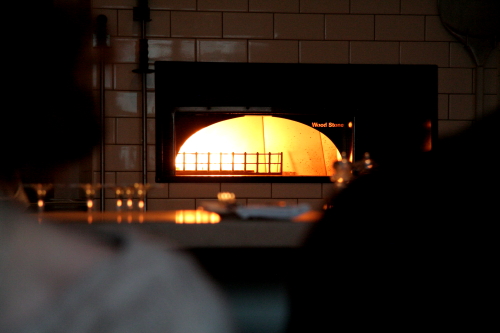 For the quality of the meal as well as the fantastic service and relaxed environment, I would say that the menu is really good value. Sure, you can get pizza elsewhere for around €10, but for an extra €4 you get high quality ingredients that make an incredible pizza. Portion sizes on other meals are generous, and again, it's all about the great quality. Coffees and drinks aren't over priced and the desserts are fair too. Basically, it's an affordable place to eat and you're guaranteed a wonderful meal and relaxed time whether for a weekend treat or a special occasion.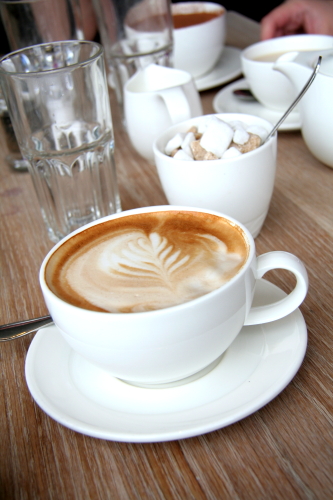 After enjoying the meal, you'll be glad there's a long pier to walk along to burn off some of those calories!
The East PierWalking of the meal with the in-laws
I like Oliveto!
All gone!
Find Oliveto on Google Maps: