I was very excited to get sent a copy of David Lebovitz's well known "The Perfect Scoop". It's not a new book but I had yet to get my little mitts on it. Thankfully it's being reprinted in the UK and so I was only too happy to say yes to reviewing it.
For those of you who have yet to discover this, David Lebovitz is a master in the ice-cream realm. (He's not too shabby with pastries and desserts either ;) ) Not just ice-cream; frozen yoghurts, granitas and sorbets as well.
So far I've made four of his recipes. I know, it doesn't seem like a lot considering his book is rammed with over 100 frozen creations, but it's enough for me to know that the rest will be as fantastic.
Not only is there a wealth of ice-cream to be made, but also accompaniments and all sorts of good things to add to your ice-cream that will have guests doubting you and looking for the empty Haagen Dazs container.
What I like to do when showcasing a book, I start at the beginning and work my way through. At the end, you'll be rewarded with two of David's recipes.
As with most recipes for ice-cream, the recipes in The Perfect Scoop do require that you have some sort of ice-cream maker. I have the ice-cream making attachment for the KitchenAid, so I was all set for trying a few of the recipes.
First off we start with the title "Basics". A good place to start. David outlines important basics in ice-cream making, like making the perfect ice-cream custard, recommendations of ingredients and what the effect of some ingredients like alcohol has on ice-cream and sorbets. He also gives advice on the various ice-cream machines/churners available. He even outlines which saucepans and frying pans he recommends as well as other equipment like zesters, seives, thermometers and scoops.
I love a book with an intro like that, it makes me feel like I'm in good hands and that the recipes will be well thought out, and most importantly, will work!
Chapter two. Ice-creams! That's what we're here for, after all! And with 76 recipes for ice-creams, sorbets, frozen yoghurts, granitas and gelato, I think there's plenty to keep you busy for many summers of ice-cream making.

Again, he starts with the basics. Two recipes for vanilla ice-cream, one with and without eggs, and then the same for chocolate.
I made his vanilla ice-cream (with eggs) and it was fantastic. I'd been saving up these gorgeous, plump vanilla pods from some exotic region that I'd bought and been hiding in my cupboard and they were put to good use, almost giving a lovely bourbon flavour to the ice-cream, which was creamy and just plain delicious.

There are also various ice-creams with fruit like chocolate raspberry, roasted banana, plum, fresh fig and peach ice-cream. There are two coffee ice-creams and one coffee frozen yoghurt, of which I made the classic coffee, again, delicious! I love coffee ice-cream, it's a little more grown up, but really, it's still just ice-cream.
Some other interesting ones include cheesecake, tiramisu, lavender honey, eggnog, Guinness milk chocolate and malted milk ice cream, down to downright eat a whole tub in one go ice-creams like tin roof, white chocolate, butterscotch pecan, rum raisin and chocolate peanut butter. Again, I gave the chocolate peanut butter ice-cream a try, it has a slightly different texture because of the peanut butter, but it was amazing. Just enough chocolate to just enough peanut butter flavour. Man oh man.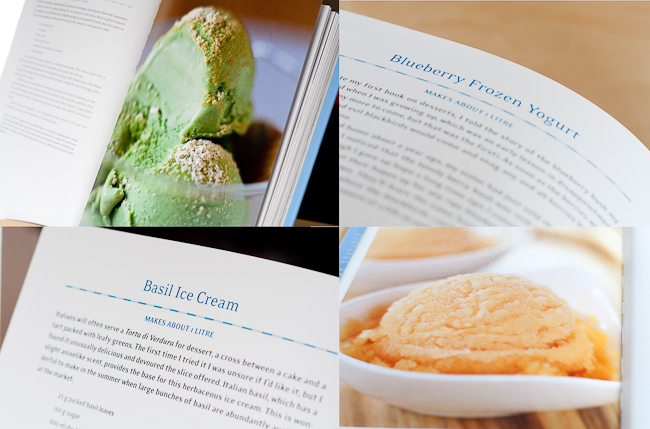 There are more adventurous flavours like basil, black pepper, parsley, avocado, sweet potato, goats cheese and Roquefort ice-cream.
Each of these recipes has a footnote, "perfect pairings". David recommends toppings, mix ins and suggestions for making ice-cream filled profiteroles, crépes and cream puffs.
There is one thing about the ice-cream recipes that I tried, I found them all to be just a little too sweet. When I made them second time round I reduced the sugar by 1/4 and I found that to be perfect for my taste. One tiny thing in this otherwise packed book of goodness is really nothing at all, and now that I know that I prefer my ice-cream a touch less sweet, easily worked around for future adventures in ice-cream. And there will be future adventures :D

Leaving behind the stars of the book we move on to the supporting cast, who are not to be sneezed at. Sorbets and sherberts.
There's mango, green apple and sparkling cider, grape, lemon, pink grapefruit and champagne, chocolate, apricot....... I think you get the idea. Another 39 tasty recipes to wade your way through.
Chapter four is all about granitas. 18 delicious granitas.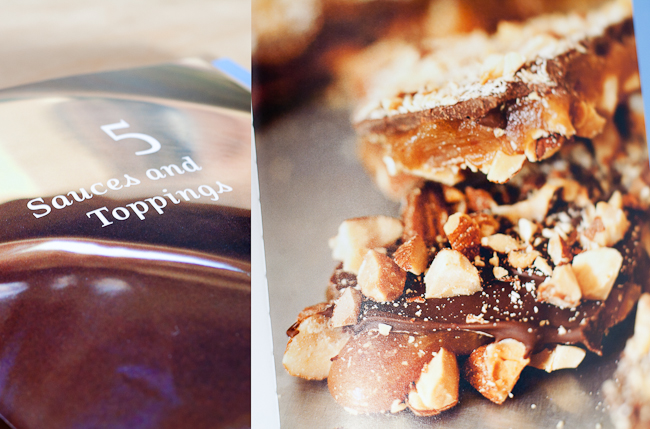 Because ice-cream is often enjoyed with other accompaniments, chapter 5 is dedicated to sauces and toppings. Yeah baby!
Classic hot fudge, dreamy caramels and tasty fruit sauces, perfect to add a little extra something to your bowl of deliciousness. Not to mention the lovely selection of crunchy nut toppings (ah honeyed cashews, I will eat you all). Heaven.
Chapter 6 is all about mix-ins. Some of the perfect pairings will point you to this chapter. Again, ice-cream's favourites, nuts, fruit, cookie dough, truffles and more.

I know, I'm basically just going through a list of things this book has in store for you, but you need to know just how much there is! This book is a plethora of ice-cream goodness.
But I'm not done yet!
Chapter seven is all about vessels. 13 recipes of things you can put ice-cream in or on like brownies, sandwich cookies, cones and edible cups.
Ok now I'm done.
The Perfect Scoop is about the whole experience of ice-cream. Not just the ice-cream itself, but everything that goes with it, which makes this creamy sweet treat such a treat. From the toppings, sauces, mix-ins and even vessels, the whole enjoyment of ice-cream is laid out neatly in this book with David Lebovitz's humour taking you through each recipe. All to create the perfect scoop.

And as promised, two recipes from this fantastic book.