a.k.a. Vanilla Funfetti Cupcakes with a Strawberry Cheesecake Filling, topped with Marshmallow Frosting
Yeah, I like "Unicorn Poop Cupcakes" better.
I am not above bending to a trend to get a a few extra eyes on the blog. These cupcakes are exactly that. I didn't make them because I thought they'd be tasty (they are) or just sooooo cute (they are) or because I'm just that sorta girl (I'm not). I made them to hit a note with all the unicorn and rainbow food trends happening in lattes, on toast and in every sweet form imaginable.
I fear, though, that I'm already late to the party.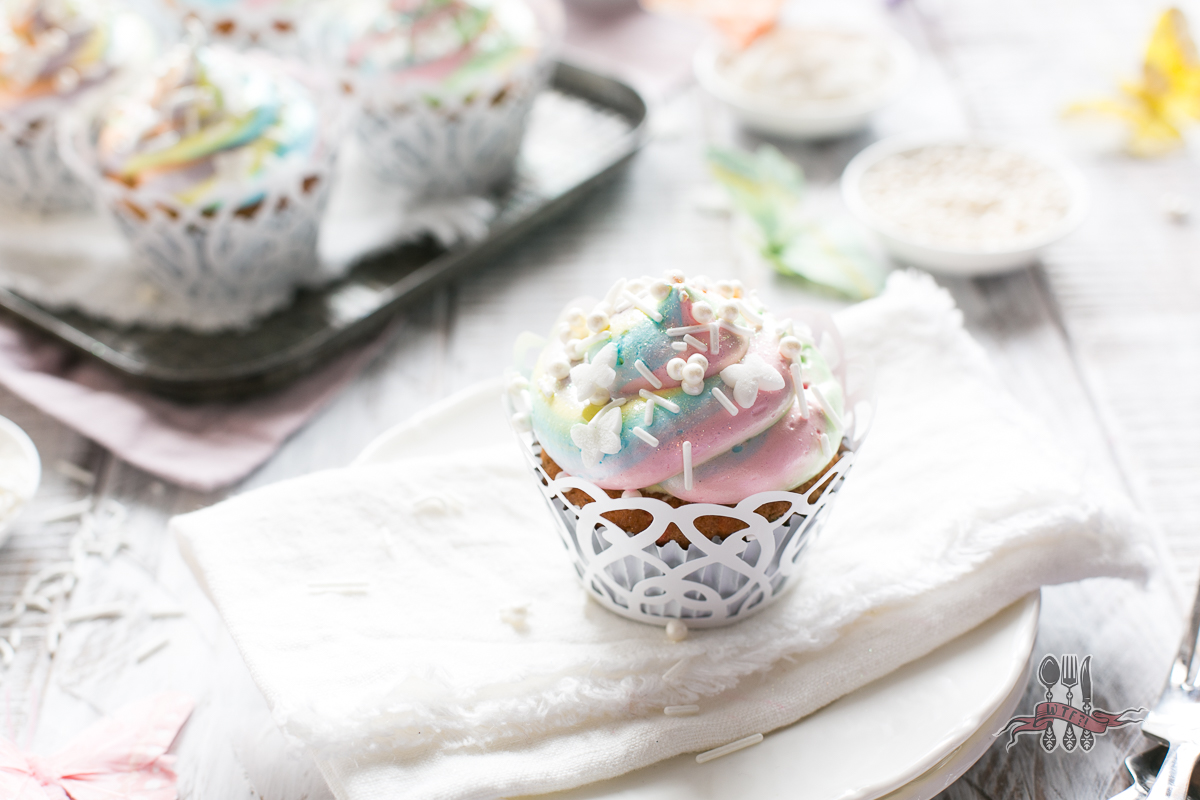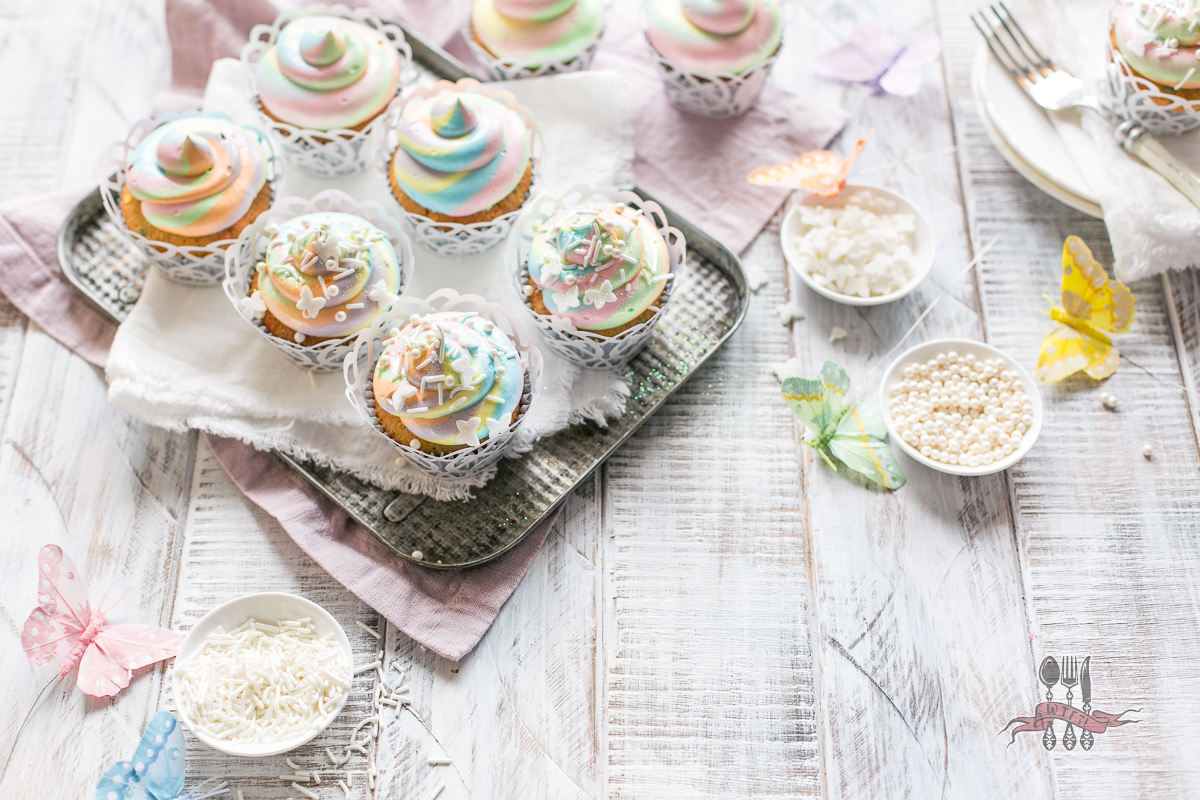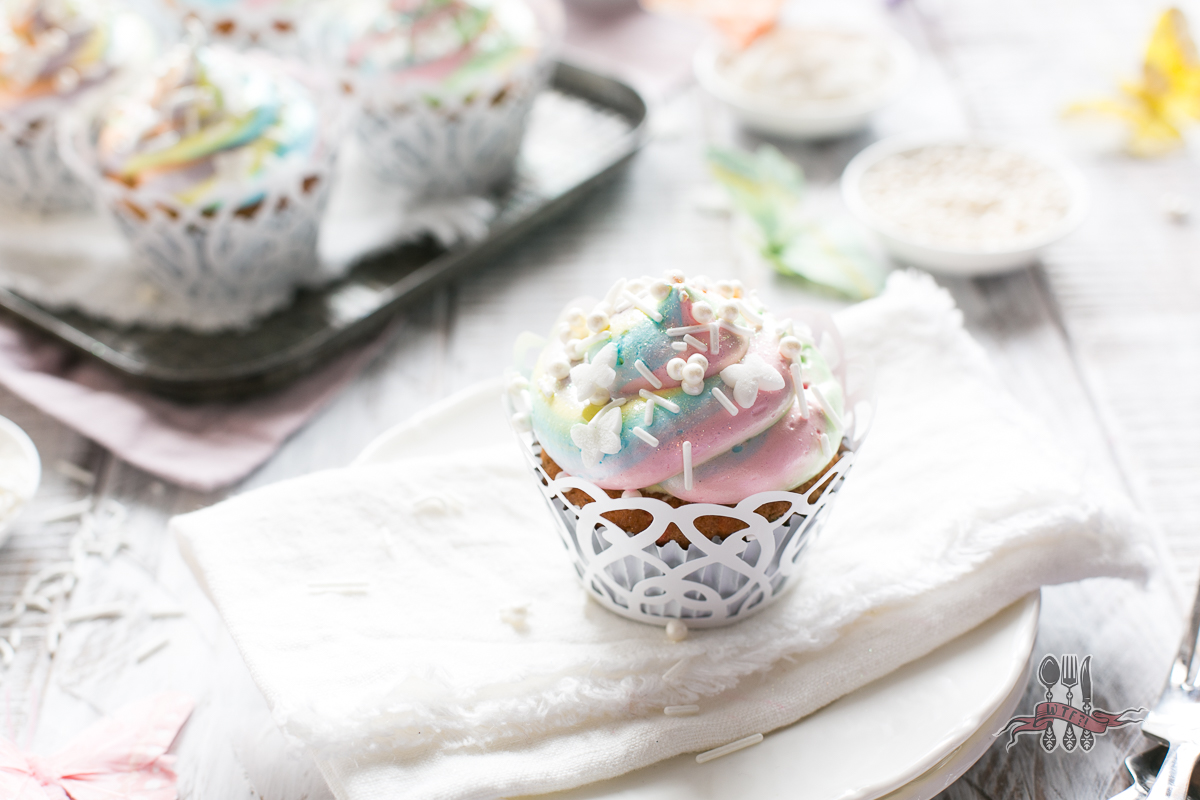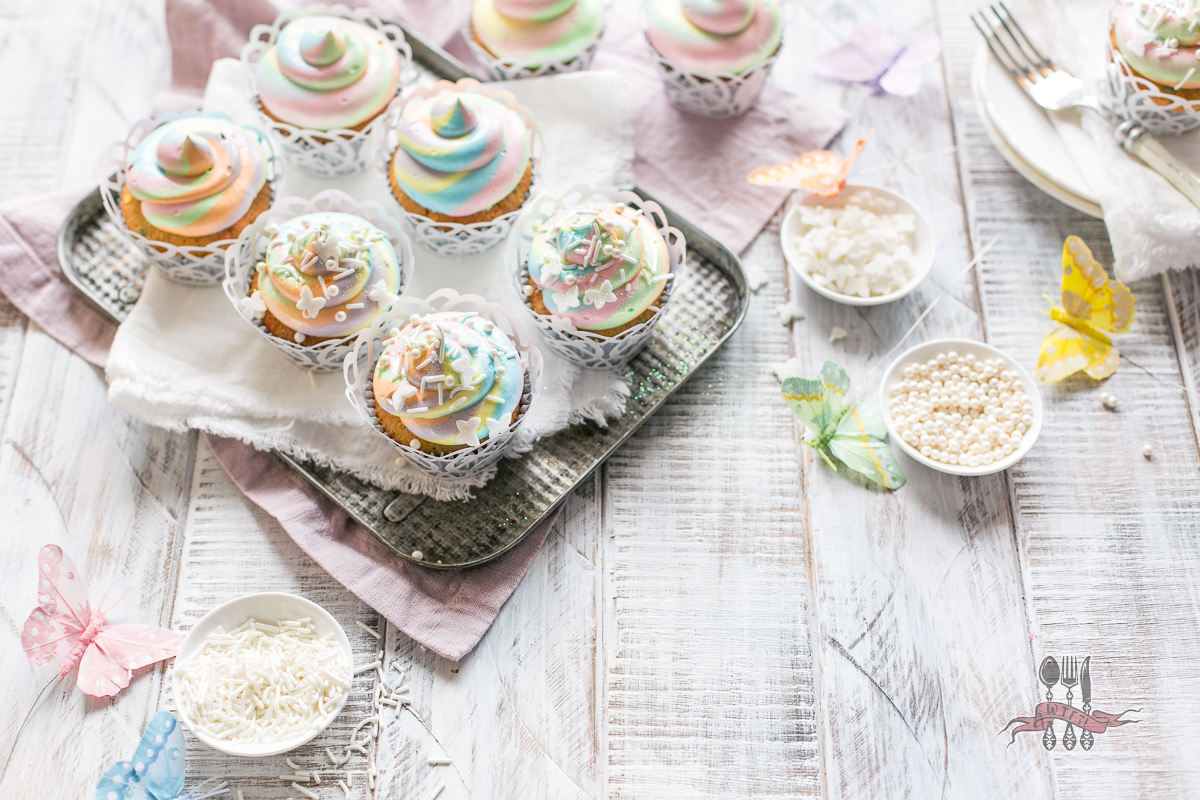 Would you believe that I shot the video, photos and wrote the recipe about 4 months prior to finally writing the blog post about it? The internet was in the thick of all things pastel and multi-coloured at the time. Since then, the anti-unicorn movement has happened with all black "charcoal" flavoured ice-creams and other rubbish. Yes, it's all a load of rubbish. But, trends will be trends, and we all like to look at them. Don't deny that you don't.
That said, take away the sprinkles and rainbow marshmallow frosting, and these cupcakes are friggin delicious!
If I'm completely honest, the rainbow frosting is actually a little bit of a faff to make. It's the dividing of the frosting and colouring each one that is a little time-consuming. The next time I make these cupcakes, unless I have the big eyes of a little girl begging me to make it all pretty and pastel, I'll just be leaving the frosting white and using some fun sprinkles on top, instead.
But, you have to admit, the colours are pretty funky!
I've used my favourite vanilla cupcake recipe, lovely and soft, buttery and not too sweet. The filling? Oh man. You will be glad that the recipe actually makes a little more than is actually needed. You WILL be eating it with a spoon, possibly piping it straight into your mouth from the piping bag. It. Is. Glorious. Perfect for strawberry season, of course.
Basically, it's a cheesecake mixture, but no gelatin or any worry about it needing to set. It's a filling, after all. A delicious, tangy, sweet, surprisingly light, strawberry infused cheesecake filling.
I went with a marshmallow/meringue frosting because I wanted something that was pure white (easier to colour) as well as not being too sweet. It's also rather dreamy and light, very unicorn-esque. I don't use marshmallow frosting enough, I fear. I think I should start making it more. Agree?
Better late than never, my Unicorn Poop Cupcakes ('cause unicorns poop rainbows, obviously...)
Funfetti Cupcakes
(Makes 12)
95g
3.5 oz
3/4 cup
Self Raising Flour
80g
3 oz
1/2 cup
Plain Flour
1/4 tsp
1/4 tsp
1/4 tsp
Salt
125ml
4.5 fl oz
1/2 cup
Milk
1 tsp
1 tsp
1 tsp
Vanilla Extract
115g
4 oz
1/2 cup
Unsalted Butter, softened (1 stick)
200g
7 oz
1 cup
Granulated Sugar
2
2
2
Eggs
50g
2 oz
1/3 cup
Confetti Sprinkles
Strawberry Cheesecake Filling
40g
1.5 oz
1.5 oz
Fresh Strawberries, cleaned & hulled
1 Tbsp
1 Tbsp
1 Tbsp
Icing Sugar
1/4 tsp
1/4 tsp
1/4 tsp
Vanilla Extract
100g
3.5 oz
3.5 oz
Full Fat Cream Cheese
2 Tbsp
2 Tbsp
2 Tbsp
Double Cream
Method
Preheat oven to 180°C (160°C Fan Assisted / 350°F)
Line 1 muffin tin with cupcake liners
In a small bowl sift the flours and salt together then set aside
Combine the milk and vanilla extract in a jug or small bowl and set aside
In a large bowl cream the butter until smooth
Add the sugar and beat until fluffy, about 3 minutes
Add eggs 1 at a time, beating thoroughly after each addition. Scrape the sides of the bowl between adding each egg
Add 1/3 of the dry ingredients to the butter and beat until just incorporated
Beat in 1/2 of the milk & vanilla
Beat in 1/2 of the remaining dry ingredients
Beat in the last of the wet ingredients
Finally, add the last of the dry ingredients and the confetti sprinkles, lightly mix or fold just until combined
Spoon the batter into the prepared cupcake liners to about 3/4 full
Bake for 20 - 25 mins or until a toothpick comes out clean
Leave to cool in the pans for 10 mins
Remove cupcakes from the pans and cool completely on a wire rack before filling & frosting
Use an apple corer or small round pastry cutter to remove the centre of each cupcake (then enjoy nibbling on the bits you removed!
Prepare the filling
Combine strawberries, icing sugar and vanilla in a small food processor, blitz until mostly smooth
Add the cream cheese and blitz until smooth and creamy
Transfer mixture to a bowl then add the cream
Whisk slowly just until incorporated (to avoid splashing) then whisk on high speed until mixture is thick and holds soft peaks
Spoon filling into a piping bag then fill the cupcakes with the mixture
Prepare the marshmallow frosting (see below) then pipe swirls of frosting onto each cupcake
Decorate with sprinkles or edible glitter, optional
Marshmallow Frosting
3
3
3
Egg Whites
150g
5 oz
2/3 cup
Caster Sugar
1/4 tsp
1/4 tsp
1/4 tsp
Vanilla Extract
Gel or Paste Food Colouring
Method
Starting on low speed, then increasing to a medium speed, whisk the room temperature egg whites in a scrupulously clean bowl until they become frothy
Still whisking, spoon in 1 tablespoon of sugar at a time very slowly
Increase the speed as you slowly add the sugar
When all the sugar has been whisked in and the meringue is glossy with stiff peaks, whisk in the vanilla
Divide the meringue into smaller bowls, one bowl for each colour
Colour each bowl of meringue with gel or paste food colouring, a small whisk is best for this
Tip: You do lose some volume when you mix in the colouring, this is normal! I used 5 colours for the cupcakes in my video, but 6 colours for the photos. I prefer the ones with 6 colours, and I also made the colours just slightly darker
Lay a piece of clingfilm flat on the counter, then spoon a line of each coloured frosting onto it, each line right next to and touching the previous one (this is best seen in my video)
Fold up an excess clingfilm on the ends, then bring the one side over so that the frosting folds over onto itself. Close over and gently shape into a thick roll
Twist the ends closed
Trim away the one end of the clingfilm and put that end first into a piping bag fitted with a large plain or star piping tip
Now pipe swirls of frosting onto each cupcake