There's something about your moms old recipes books that are discoloured, stained, written in and missing their front covers. I have some of my mom's old books and I still go back to them from time to time. The recipe that caught my attention this time was the one for Peanut Butter Cookies!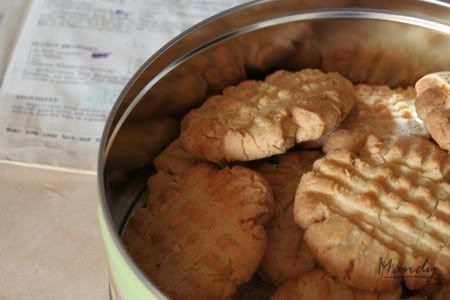 I used to love these as a kid! I distinctly remember the impression of the fork ontop of the cookie, my mom didn't do criss-crosses, she just did a single press, but it was the only cookie with that marking on top :)
As I mentioned, this particular recipe book has lost its cover quite a while ago so I can't tell you the name of it but I can tell you that this recipe was submitted by a Mrs A Orbell from Salisbury. Thank you Mrs Orbell!

I decided to try something a little different from what my mom used to make and added chocolate chunks into half the dough. They came out really well and my husband can't keep his hands out of the cookie tin! Both the plain and chocolatey biscuits are fantastic so give them a try :)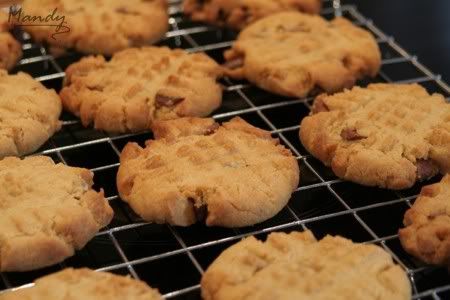 Ingredients:
225g Margarine/Unsalted Butter (at room temp)
2 cups Brown Sugar
3 cups Plain Flour
450g Peanut Butter (smooth or crunchy)
1½ tsp Bicarb of Soda (dissolved in a bit of milk)
1 tsp Baking Powder
2 Eggs
Method:
Preheat oven to 190°C (170°C fan assisted)
Cream the margarine or butter.
Add the peanut butter and sugar and cream together.
Mix in beaten eggs.
Sift in flour, the baking powder and dissolved bicarb, mix well.
If you're going to add chocolate chips, do so now. (I only added to half of the dough and used 180 gr, well, minus the handful that I ate ;) )
Roll into balls (about a tablespoon) and press down on the cookie sheet with a fork making a criss-cross shape.
Bake until golden brown, about 10-15 minutes, in preheated oven.
This recipe makes about 4 dozen large cookies.
Adapted from a book that unfortunately doesn't have a cover anymore (and so I can't provide the name ;) ) but is a collection of recipes sent in by anyone happy to share