The May 2010 Daring Bakers' challenge was hosted by Cat of Little Miss Cupcake. Cat challenged everyone to make a piece montée, or croquembouche, based on recipes from Peter Kump's Baking School in Manhattan and Nick Malgieri.
It was bound to happen at some point.

You see, every month, there are a few days of nothing between the completion date of a challenge and when the next one will be announced. In those few days there's a lot of speculation about what the challenge could be. We have a look at the hosts' blog, hoping that it will give us a clue. For instance, this month a good guess was that we would be doing something cupcake related because Cat's blog is mostly about the fun of cupcakes.
Most months there's also someone who always worries that the challenge will be the daunting croquembouche. But it never is. Until now.

No, not cupcakes, not even muffins or a cake, Cat chose a piece montée (croquembouche) as the May challenge.
I had never made choux pastry before although I really am quite the fan. I looooove a cream filled eclair smothered in chocolate as a naughty afternoon snack, or profiteroles after dinner. We're great friends, choux pastry and I. It's about time I learnt how to make it myself!

Cat gave us the freedom of filling flavours, we were also allowed to assemble the croquembouche any way we liked, we didn't have to stick to the traditional stack, so long as we did do some measure of piling gorgeous cream filled puffs and gluing them together with caramel or chocolate.

I ended up doing this challenge twice. My first idea was to make a croquembouche "gift", that is, assembling it in a giant cube and then topping it off with a chocolate bow to make it look something like a wrapped present. I'd never made a chocolate bow before and decided to give it a try for this challenge.
Unfortunately a couple things didn't go quite as I was hoping. First off, while I was successful and very happy with the shape of my chocolate bow, I was not happy with the finish. I'd used a chocolate transfer, something I've used before quite successfully. I'm not sure if it's 'cause the transfer I used had been sitting in a cupboard since December or if I just got things really wrong with the chocolate or if it was just a dud transfer, but when I came to peeling it off the loops of choc, half the transfer stayed on the sheet and half was left on the chocolate, and it was not a pretty result because where it came away from the chocolate it left a horrible matt looking area. Meh!

Then, being my first time making choux puffs, I didn't realise exactly how big they would puff up so I ended up with giant puffs. Not the worst thing, but again, just not what I was hoping for. They tasted great, I filled them very simply, plain puffs with vanilla pastry cream and the chocolate puffs with coffee pastry cream, both pastry creams folded with whipped cream to make them a little more light and fluffy.

So, although yummy, I was disappointed with the way it looked in the end. I may try make it again one day 'cause it was kinda cute.
My second go at the challenge was much better. I decided to do the traditional shape and I think it turned out really well.

I got slightly more creative with the fillings this time, making a cognac pastry cream and a chocolate orange pastry cream, again, both folded into whipped cream.
Let me just say. Cognac pastry cream = ZOMWGIEFMEMOARNOW! It was so friggin delicious! It would go really well with something orangey, either mixed in, or as an accompaniment to, also in a Christmas trifle. Seriously, it was just incredible and something I'm definitely going to make again.

I don't enjoy chocolate orange, but my hubby loves that flavour combo so I took his word for it that the orange choc pastry cream filling was really good too.
The only thing I was a little sad about, was that I was going to have a second attempt at the chocolate bow, I'd ordered another transfer etc, but it didn't arrive in time, so I ended up making weird caramel thingies to go on the croquembouche. Ah well, I was really happy with the way everything else turned out so I really can't complain.
Oh yes, and we also had freakishly hot weather in Ireland the weekend I did the challenge for the second time so my filling ended up melting, lol. I've not really needed to keep things chilled in the fridge so I just didn't think to let them set in the fridge a little before assembling etc. Lesson learnt. Don't take the Irish weather for granted, it does get hot here! :)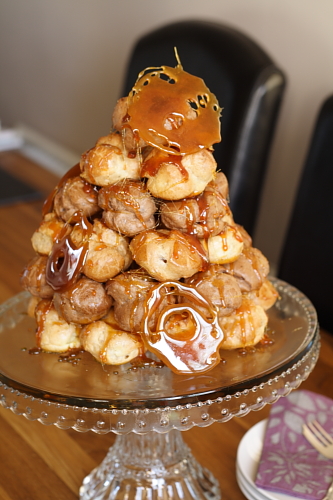 A fantastic challenge! And now I can make my own eclairs too.... mmmmmm......
Pate a Choux (Yield: About 28)
Ingredients
¾ cup Water
85g Unsalted Butter (6 Tbsp)
¼ tsp Salt
1 Tbsp Sugar
1 cup All-Purpose Flour
4 Eggs, large
For Egg Wash: 1 egg and pinch of salt
Method
Pre-heat oven to 425°F/220°C (200°C Fan Assisted)
Line two baking sheets with parchment paper
Preparing batter:
Combine water, butter, salt and sugar in a saucepan over medium heat
Bring to a boil and stir occasionally
At boil, remove from heat and sift in the flour, stirring to combine completely
Return to heat and cook, stirring constantly until the batter dries slightly and begins to pull away from the sides of the pan
Transfer to a bowl and stir with a wooden spoon 1 minute to cool slightly
Beat in 1 egg
Tip: It will appear loose and shiny, as you stir, the batter will become dry-looking like lightly buttered mashed potatoes
It is at this point that you will add in the next egg
Repeat until you have incorporated all the eggs
Tip: When it comes to adding the last egg, beat it in a small bowl first, then add a little bit at a time to the batter until the consistency is right. If you add too much egg, the batter will be too liquid, so rather that putting the whole egg in, be safe and add small amounts at a time. The batter should be able to hold its shape
Tip: I found it easiest to mix the egg in with an electric mixer rather than by hand, but if you are going to do it by hand, I found it best to start mixing it vigorously with a whisk, then finishing off with a wooden spoon
Piping:
Transfer batter to a pastry bag fitted with a large open tip
Pipe choux about 1 inch-part in the baking sheets
Choux should be about 1 inch high about 1 inch wide
Using a clean finger dipped in hot water, gently press down on any tips that have formed on the top of choux when piping, you want them to retain their ball shape, but be smoothly curved on top
Brush tops with egg wash (1 egg lightly beaten with pinch of salt)
Baking:
Bake the choux at 425°F/220°C (200°C Fan Assisted) until well-puffed and turning lightly golden in color, about 10 minutes
Tip: Avoid opening the oven door to check or rotate them at this stage, they'll still be doughy and will deflate
Lower the temperature to 350°F/180°C (160°C Fan Assisted) and continue baking until well-coloured and dry, about 20 minutes
Remove to a rack and cool
Filling:
When you are ready to assemble your piece montée, pierce the bottom of each choux with the tip of a sharp knife
Fill the choux with pastry cream using a plain tip and place on a paper-lined sheet
Choux can be refrigerated briefly at this point making the glaze
Chocolate Glaze:
8oz/200g Chocolate, finely chopped
Melt chocolate in microwave or in a double boiler
Stir at regular intervals to avoid burning
Use immediately
Hard Caramel Glaze:
1 cup / 225 g Sugar
½ tsp Lemon Juice
Combine sugar and lemon juice in a saucepan with a metal kitchen spoon stirring until the sugar resembles wet sand
Place on medium heat; heat without stirring until sugar starts to melt around the sides of the pan and the center begins to smoke
Begin to stir sugar
Continue heating, stirring occasionally until the sugar is a clear, amber color
Remove from heat immediately; place bottom of pan in ice water to stop the cooking
Use immediately
Assemble:
Dip the top of each choux in your glaze
Start assembling on your cake board/plate/sheet
Continue dipping and adding choux in levels using the glaze to hold them together as you build up
Once assembled, drizzle with remaining glaze or use ribbons, sugar cookie cut-outs, almonds, flowers, etc. to decorate
Light Pastry Cream
Ingredients
200ml Milk
3 Large Egg Yolks
2 Tbsp Caster Sugar
1 Tbsp Plain Flour
1 Tbsp Cornflour
1-2 Tbsp Cognac
1 cup Whipping Cream
Method
Heat the milk and cognac in a medium sized pan
In a bowl, whisk the egg yolks and sugar together
Whisk in the plain and cornflour into the yolk mixture
Pour the hot milk into the yolk paste whisking constantly so that the egg doesn't cook
Pour the mixture back into the pan and whisk over low heat until thick and smooth
Transfer the pastry cream to a bowl and cover closely with plastic wrap to prevent a skin forming
Allow to cool
When ready to fill choux puffs, beat cooled pastry cream to get rid of lumps
Whip cream and fold into the pastry cream with a metal spoon
Transfer to a pasty bag and fill choux puffs (see above for method)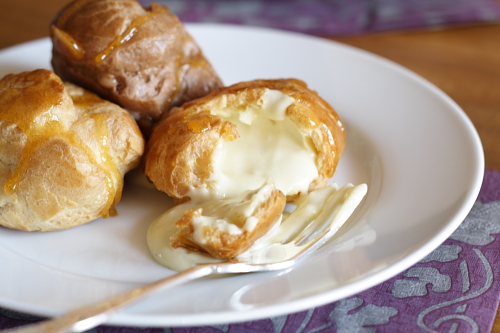 Other Tips:
Pastry cream can be made 3 days ahead and refrigerated
Before using and folding in whipped cream, stand out at room temperature and beat to get rid of any lumps
Choux puffs can be made a day ahead and stored in an airtight container
If caramel glaze starts to harden, put over very low heat to melt again but be careful of cooking it too much as it may become bitter