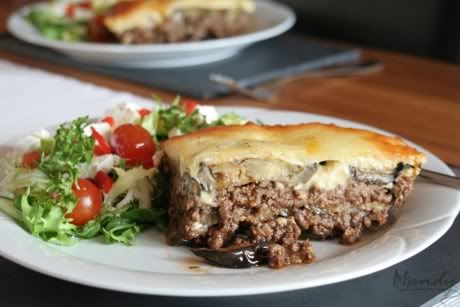 My mom used to make this all the time, it was one of her favourites to make 'cause she'd do it in a huge dish and it would be enough for lunch and/or dinner for the next couple of days. What I didn't know was how long it takes to prepare, so it's the sort of dish that is both time consuming yet time saving.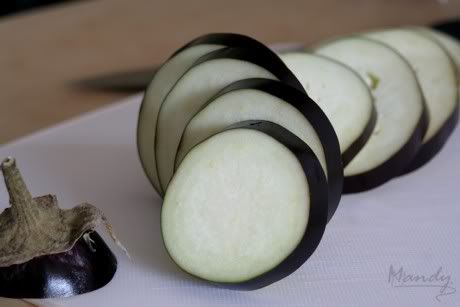 I hadn't had it in ages but I know I loved it, I remember there being something about it that was very different to the usual minced meat dish, apart from the brinjals. When I think of a dish containing mince, I always expect it to have the usual suspect of flavours of tomato, garlic, oregano, basil etc. I decided to tackle this dish and was very happy with the outcome! It was definitely a distinct taste and the moment I had my first bite, it was as if I've been eating it every other week, the memory of the taste hadn't left me.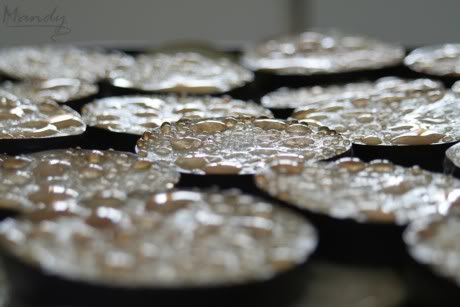 I'm not exactly a food fundie so I don't know how many other meat dishes are done this way but it's certainly a very different way to prepare mince in my opinion. The key ingredients being cinnamon, cloves or allspice. What a delicious taste! While the mince was cooking it gave off those rich aromas, which sort of confused my brain a bit because I knew it was mince.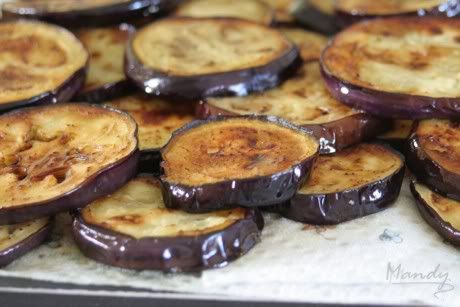 My husband had no idea what the dish was when he saw it sitting on the counter resting, he had a good whiff and all he got out of it was a cheese topped dish of some sort but he could also smell the spices in the air which he thought was a pudding being prepared.
I'm happy to say that he absolutely loved it! We both loved it! Every bite, right to the last. As well as every bite of the seconds :D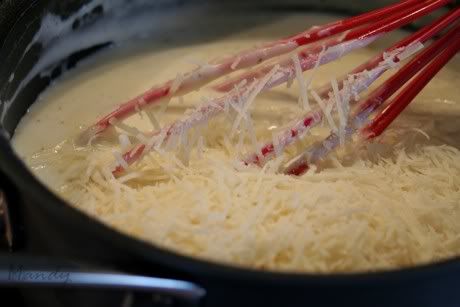 This recipe is a mix of 4 different yet similar recipes I found in my mom's old recipe file. There were notes on all of them so I'm guessing she used them all at some stage. I couldn't decide which to go with so I decided I would make my own out of all 4.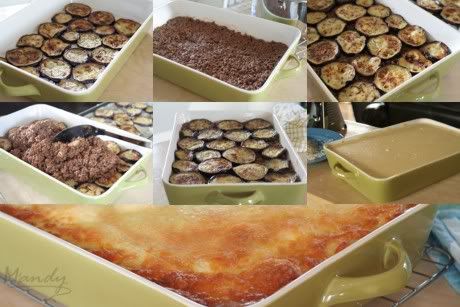 I remember my mom including potato into it as well and after a bit of reading around the net I found out that moussaka is basically minced meat layered with a veggie of your choice, the most common being brinjal, courgettes and potato. One site even suggested using all three in one dish. I've decided I'll definitely try that someday. Another veggie that I think would be great in this dish is butternut. I normally sprinkle or add cinnamon into my butternut dishes so I think it would be a great veg to use.
Play around with the layers and enjoy!
Ingredients
7-8 Large Round Eggplants
2 cups Grated Parmesan/Mozarella
Olive oil, for frying or brushing over the eggplants
Meat Sauce
1.5 kg Beef Mince/Lamb Mince
1 Large Onion, chopped
½ cup Dry Red Wine
1 can Tomatoes
1 Tbsp Tomato Purée
1 Large Clove Garlic, crushed
2-3 tsp Cinnamon, ground
1 tsp Cloves, ground
Salt & Pepper to taste
Olive Oil, enough to brown the onion
Bechamel
4 cups Milk
6 Tbsp Butter
8 Tbsp Flour
1 Cup Grated Parmesan
4 Egg Yolks
Salt, Pepper & Nutmeg to taste
Method
Prepare the Eggplants
Cut eggplants into 1.5cm slices
Sprinkle generously with salt & allow to stand for 1-2 hours to sweat, this helps remove the bitter taste
Rinse eggplants under cold water, drain and pat dry with a paper towel
Brush eggplants with olive oil and grill until lightly browned
or
Fry eggplants in olive oil on a high heat until lightly browned
Tip: Before adding eggplants to the pan, I press them down on paper towels to make sure there's as little water in them as possible otherwise you'll have hot oil spitting at you
Drain on paper towels and set aside
Prepare Meat Sauce
In a large pan or pot, heat olive oil, cook onion until transparent
Add mince and brown the meat
Tip: To avoid the mince boiling, fry small amounts of mince in a seperate frying pan then add to the onions
Add canned tomato, tomato purée, crushed garlic, wine, ground cinnamon, ground cloves, salt & pepper
Simmer for about 30-45mins until sauce is thick & liquid has cooked away
Prepare Bechamel
Melt butter in a pot on low heat, add flour & stir with a wooden spoon to remove lumps
Remove from heat, gradually stir in milk, whisk continuously making sure there are no lumps
Return to a medium high heat, stirring continuously until it thickens
Remove from heat & season with nutmeg, salt & pepper
Stir in 1 cup grated parmesan, allow to cool slightly
Stir in beaten egg yolks & mix until smooth
Assemble & Bake
Arrange ⅓ of the eggplants in a greased 36cm X 24cm X 6cm ovenproof dish (14" x 9.5" x 2.5")
Spread half of the meat sauce evenly over the eggplants
Arrange half of the remaining eggplants ontop of the mince
Cover with the remaining meat sauce
Arrange last of the eggplants on the meat sauce
Spread bechamel sauce over the eggplants
Bake at 180°C (160° Fan Assisted) for 30mins
Remove from the oven & sprinkle generously with grated parmesan
Tip: I like to use a mix of parmesan & mozarella, gives a lovely cheesy topping without being too strong
Bake for another 20-30mins or until golden brown
Allow to cool for 20-30 mins before serving
Serve with a lovely fresh salad!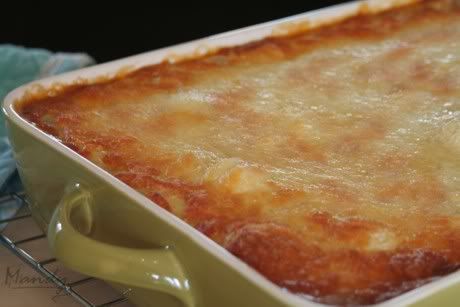 Enough to generously serve 8-10 people
Tips:
This dish is traditionally served at room temperature or even cold
Don't be tempted to serve it too soon out of the oven otherwise you'll be dishing up a mushy mince soup ;) Allow it to cool so that the bechamel sets
Can be prepared a day ahead
Prepare until bechamel, cover & refrigerate
On day of serving, prepare bechamel and bake according to recipe
Can be frozen for up to 3 weeks
Assemble moussaka (including bechamel), cover well with plastic wrap & foil, freeze
Defrost in the fridge and bake according to recipe
Prepare, bake & freeze smaller portions
Bake according to the recipe, allow to cool completely
Divide into smaller portions, wrap each portion well with plastic wrap & foil
Defrost in fridge and heat in oven or microwave