Skordalia = Garlic, Garlic, Garlic!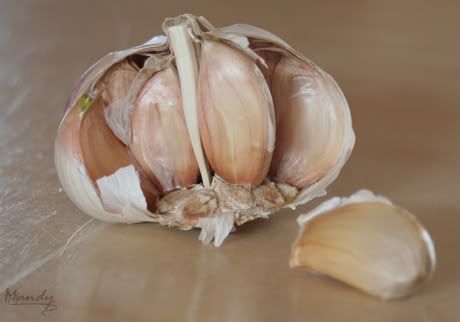 ... and more garlic ;)
If you love garlic, and I mean love it... you'll find this a new favourite! I'm not sure how well known this dip is, I've always known it simply because my mom always made it, but if I mention it to friends, they know the popular Greek dips like Tzatziki and Taramasalata, but Skordalia is new to them.
My Greek friend says that it's most commonly served as an accompaniment to fish dishes in Greece, but it is also sometimes found on a meze platter. It's not as popular as Tzatziki as it is so heavy with garlic that it can be too strong for garlic-shy tastebuds, I'm not talking about a garlic mayonnaise strength, this really is in its own class. Our favourite Greek restaurant in SA had it as part of the meze platter for a while but eventually cut it off the list, we would ask for it specially.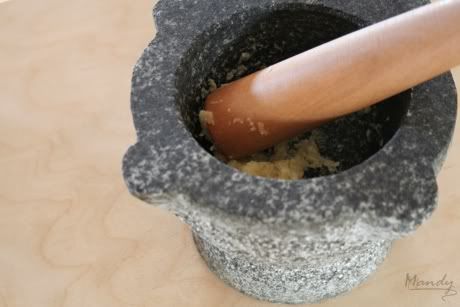 I personally love the stuff. Its main ingredients are potatoes and garlic, basically a very garlic potato mash, and I could quite easily serve up a huge spoonful and eat it as normal mash. I can see why it would be popular with a seafood dish, right now I'm drooling over the thought of grilled calamari served with Skordalia!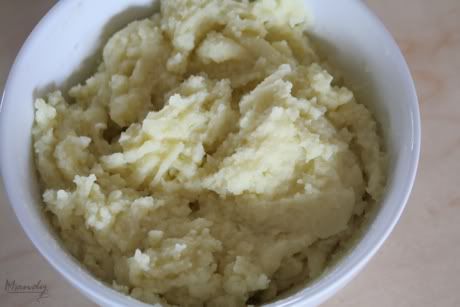 As with most Greek dishes, there are a couple variants. Skordalia can be made with potato; potato & white bread; or even just white bread, all depending on how you like the consistancy. The amount of garlic is also to taste but I'm going to be quite strict on the rule that it must be strong with garlic! This is not a wussy dip ;)
So enjoy this with friends and be merry together (so that you can all sit next to each other not minding the garlic haze wafting around the other person) :)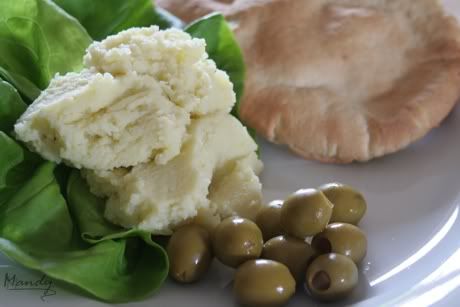 Ingredients:
2 Large Potatoes
6 Large Garlic Cloves, crushed
2 Slices (old) White Bread
1/3 cup Olive Oil
2 Tbsp White Wine Vinegar
2 Tbsp Lemon Juice
Salt
Method:
Peel and boil/steam/microwave the potatoes until tender
Drain and mash potatoes in a bowl
Press through a sieve to remove any remaining lumps
Combine potato with crushed garlic and mix well
Remove the crusts from the bread and soak in cold water for 2 minutes
Drain and squeeze water from bread
Add bread to the potatoes and mix until smooth
Gradually pour in olive oil and vinegar while stirring to combine
Add salt to taste
Cover and chill in the fridge
Adapted from the favourite handwritten recipes in my mom's old file :)
I find Skordalia is best made the day before to allow the flavours to develop while chilling in the fridge
Before serving, allow it to sit out of the fridge to lose the chill but still be cold
Oh yes, unless you didn't get it the first couple times I mentioned it, this is a VERY garlic dip, I'd even suggest you "warn" your friends before they dig in and take a huge mouthful ;)