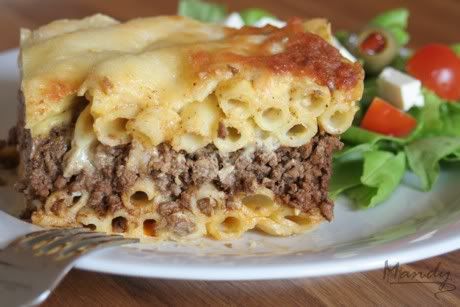 The Greek version of lasagne? A meaty version of mac & cheese? Nah, I think this dish is unique! (and darned tasty ;) )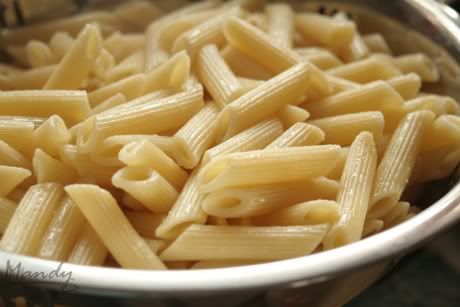 Like Moussaka, the mince in Pastitsio is seasoned with sweet spices like cinnamon, cloves, nutmeg etc. I like to make it slightly different to Moussaka so I use cinnamon & nutmeg rather than cinnamon and cloves, just a personal quirk ;) but then again, that's what cooking's all about, your personal preferences imprinting a unique taste to your dish. I know that I put amounts for spices etc in the recipes posted, but honestly, when baking I'll stick to the recipe, but when it comes to cooking I change things and go by feel, so I might say 1tsp of cinnamon, but in all honesty, I just throw it in until I'm happy with the flavour.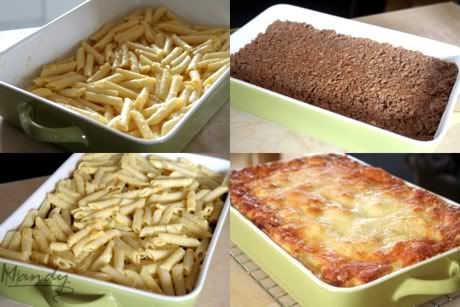 Basically, Pastitsio is a layer of cheesy macaroni, a layer of aromatic mince, another layer of cheese laced macaroni, then a layer of creamy cheese bechemal & topped off with (more!) grated cheese. It's not actually as cheese filled as it sounds, it has just enough for a fantastic flavour.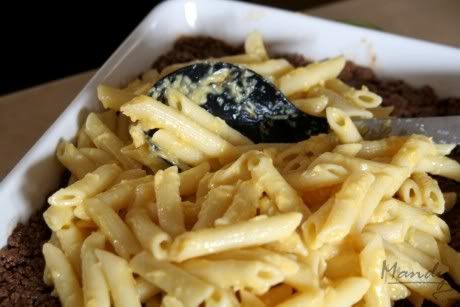 This dish is really great for a dinner party, it can be assembled the day before (up till the bechemal) and simply topped off with the sauce & popped into the oven an hour or so before your guests arrive, always a bonus as you'll be busy enough with other things :) It's also great for freezing single portions so if you're feeling a little lazy & tired or even if you have unexpected visitors, you have something ready on hand. Like the Moussaka, my mom would make a huge dish and have it in the fridge, a perfect after school meal for the next few days :)
Since introducing Pastitsio to my husband, he gets quite excited when I say I'll be making it "Oh! Is that the macaroni one? Mmmmmm!!!!" *dreamy look in his eyes and near drooling point* (or something close to that ;) ) It has a unique taste and is good straight out the fridge or warmed up for a snack, lunch or dinner, or even straight out the dish somewhere around the midnight mark ;)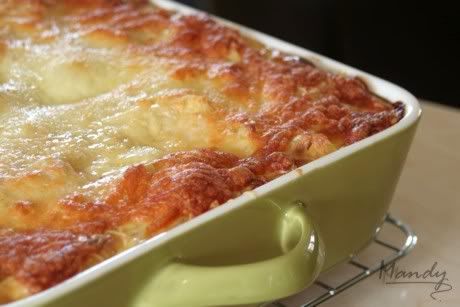 Give this dish a try, it won't dissapoint!
Ingredients
Meat Sauce
1½ kg Beef or Lamb Mince (or half of each)
2 Large Cloves Garlic, crushed
1 Large Onion, chopped
1 Can Tomatoes
1 Tbsp Tomato Purée
2 tsp Cinnamon
1½ tsp Nutmeg
Olive Oil, for frying
Salt & Pepper, to taste
Macaroni Layers
500g Macaroni or Penne
3 Eggs, lightly beaten
1 Cup (250g) Parmesan/Romano Cheese, grated
Bechemal
4 (1l) Cups Milk
6 Tbsp Butter
8 Tbsp Plain Flour
1 Cup (250g) Parmesan/Romano Cheese, grated
4 Egg Yolks
Nutmeg, Salt & Pepper
Topping
½ Cup Parmesan/Romano Cheese, grated
1 Cup Mozarella, grated
Method
Prepare Meat Sauce
Heat olive oil in large pot
Saute onions until transparent
Add mince & brown
Tip: To stop mince from boiling, fry small amounts in a seperate pan then add to the large pot
Mix in canned tomato, tomato purée, crushed garlic, cinnamon, nutmeg, salt & pepper
Simmer until sauce is think & liquid has cooked away
Set aside to cool
Prepare Pasta
While meat is simmering, boil pasta in salted water until slightly underdone
Drain & toss with olive
When cool, mix pasta with 1 cup grated cheese & beaten eggs
Prepare Bechamel
Melt butter on low heat
Stir in flour & mix with with wooden spoon to remove lumps
Remove from heat & gradually pour in milk, mixing with whisk constantly
Return to heat, stirring constantly, until it thickens
Remove from heat & season with nutmeg, salt & pepper to taste
Stir in 1 cup grated cheese, allow to cool slightly
Stir in egg yolks & mix until smooth
Assemble & Bake
In lightly greased ovenproof dish (36cm X 24cm X 6cm / 14" x 9.5" x 2.5"), spread half the pasta over the bottom of the dish
Evenly spread meat sauce over pasta
Spread the remaining pasta over meat sauce
Pour bechamel over the pasta & spread evenly
Bake at 160°C (140°C Fan Assisted) for 30 minutes
Sprinkle with ½ cup grated parmesan & 1 cup mozarella & bake for another 20-30minutes until sauce rises and top turns golden
Remove dish from oven & allow to cool for about 30mins before serving
Other Tips:
Always allow too cool for about 30 mins after being removed from the oven, otherwise you'll be dishing up a messy pasta soup ;)
Can be prepared the day before
Prepare until bechamel, cover & refrigerate
Prepare bechamel & bake (as in recipe) on the day
Can be frozen
Assemble pastitsio (including bechamel), & once competely cool, cover well with plastic wrap & tin foil, freeze
Defrost in the fridge & bake according to recipe
Can be baked & frozen in portions
Assemble & bake according to recipe
Allow to cool completely then divide into smaller or single portions
Wrap well with cling film & foil, freeze
Defrost in fridge & heat in oven or at low power in microwave
Pastitsio is normally eaten at room temperature & even good straight out the fridge :)
As stated in the ingredients list, you can use both beef and/or lamb mince. I find a good flavour with using half & half
It's not traditionally sprinkled with mozarella but I find using only parmesan/romano cheese is a bit too strong, besides, mozarella is a fantastic topping, why else is it on pizza? ;) My mom would use a mix of mozarella & cheddar or gouda 'cause parmesan was too strong for me when I was a kid