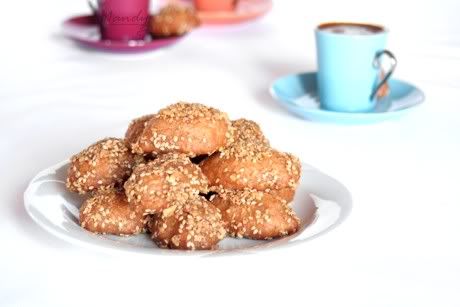 For those of you who also find Melomakarona to be a bit of a tongue twister these are also known as Greek Honey Dipped Spice Cookies, and I tell you, they're fantastic!

These biscuits are meant to be made around Christmas, but I'm sorry, they're too good to limit to having only once a year!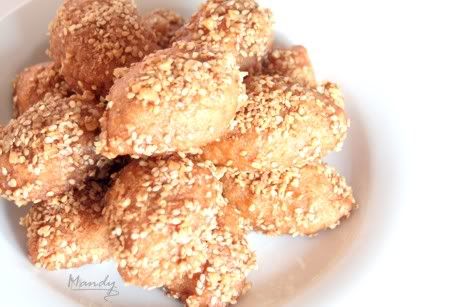 They're dipped in warm honey which is spiced with cinnamon and cloves and then generously sprinkled with crushed walnuts, sesame seeds and cinnamon. You can see why they're meant for Christmas, but take my word for it, they're fantastic at any time of the year. They're supposed to be made with olive oil but because of cost, I use sunflower oil with great results.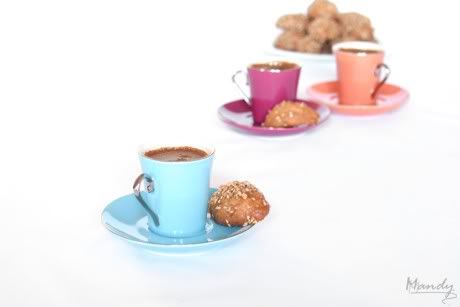 Something else that's great about them is that they last very well, so if you can control yourself to not eat them all, they're perfect for storing away for when guests come around :)
This recipe makes about 80 cookies, I know, it sounds like a lot, but like I said, they store really well and are very moreish so you'll see them disappear quickly, but the recipe is easily halved or quartered if you'd rather have less around to tempt you :)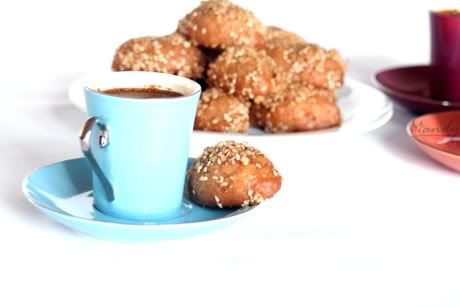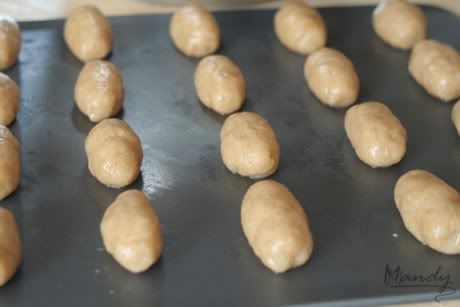 Cookie Dough
12 cups Plain Flour
3 cups Olive / Sunflower Oil
2 cups Sugar
1 cup Water, lukewarm
Juice of 1 Orange
2 tsp Baking Powder
1 tsp Baking Soda
1 Tbsp Ground Cinnamon
1½ tsp Ground Cloves
1 cup Walnuts, coursely ground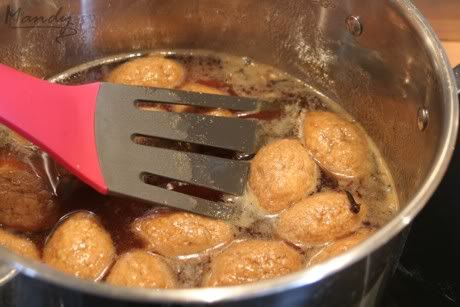 Syrup
1 cup Honey
2 cups Sugar
2 cups Water
1 Cinnamon Stick
10 Whole Cloves
Juice of ½ a Lemon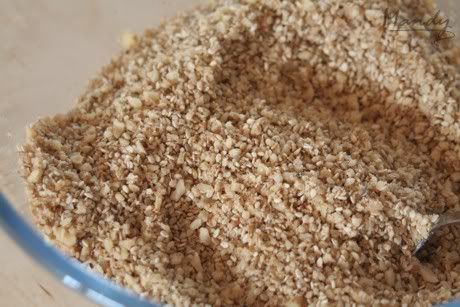 Topping
2½ cups Sesame Seeds, toasted
1½ cups Walnuts, coarsely ground
1 tsp Ground Cinnamon
Method
Preheat oven to 180°C (160°C Fan Assisted)
Dissolve the baking soda in the orange juice
In a large bowl, combine the flour, sugar and baking powder, whisk thoroughly to mix
In another large bowl, combine the oil, water and orange juice/baking soda, ground cinnamon and cloves
Beat on low until thoroughly mixed, about 2 minutes
While beating, add about 2 thirds of the flour mixture ½ a cup at a time
Beat on low speed until mixed well
Continue with dough hooks or by hand
Add the ground walnuts and the remaining flour mixture, ½ a cup at a time
Kneed by hand for about 5 minutes, the dough is ready when it doesn't stick to your hands and it will be oily
Shape the cookies by taking a small fistful of dough and shape it into a small round circle or oval (I like to make mine something like rugby balls)
Flatten the bottom with your fingers
Place cookies, flat side down, on a greased baking sheet or parchment paper, a few cm of space between each one
Bake until browned, 30-35 minutes
Remove from heat and cool completely on cooling racks (they must be completely cold before dipping into the honey syrup)
Combine and mix topping ingredients together and set aside
In a large pot or a deep frying pan, combine all of the syrup ingredients
Bring to a boil over a medium high heat and cook for 10 minutes
Turn the heat to low and remove the cinnamon sticks and cloves
Dunk cookies into the hot syrup, use a spatula or similar to hold them under for 10-20 seconds, you can also turn them over a couple of times
Once soaked, remove from syrup and allow to drip off some of the excess
Arrange on a serving plate or dish
When a layer has been laid out, sprinkle generously with the topping
Stack more layers ontop, sprinkling each layer with more of the topping
Repeat until all cookies have been soaked, laid out and sprinkled
Tip: I like to pour any remaining honey syrup over the whole lot of stacked cookies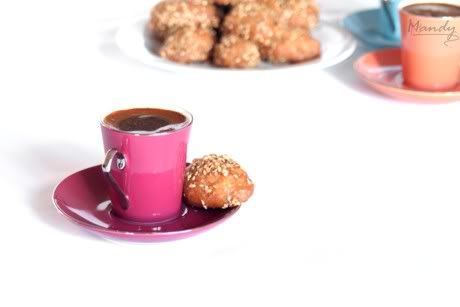 Adapted from:
The Australian Women's Weekly: Cooking Class Greek - Originally published as "Easy Greek-Style Cookery" (This is the recipe my mom used) & from About.com
Tips:
Cover dish in plastic wrap or store cookies in an airtight container at room temperature, don't refrigerate
Will keep for a few months in a tin or airtight container
I find these better after a day or 2, they soften up a bit more and the flavours develop