For Valentines I had planned a brunch at home with some friends and decided to make red velvet cupcakes to go along with the theme, and what's a Valentines cupcake without looking obviously... well... Valentines!
I went around to my favourite baking supply stores but couldn't find anything at all. No hearts, no red or pink sprinkles... I was somewhat disapointed, I thought there'd be something somewhere! Then the idea came to me... "Make your own Mandy!"
My hubby had previously bought me these tiny little shaped cutters as a pressie (he knows me so well!), one of them being a heart, and I had a slightly bigger heart cutter that I'd bought as part of a kids cookie cutter set (I don't have kids yet but bought them 'cause I thought I'd use them one day, and I was right!) So I bought some ready made fondant & ruby paste colouring and rushed home to play.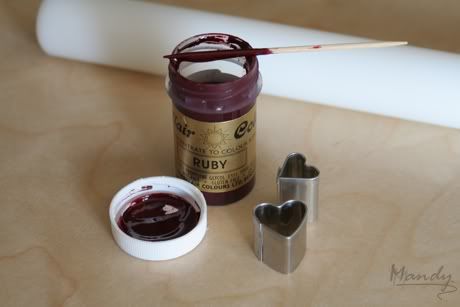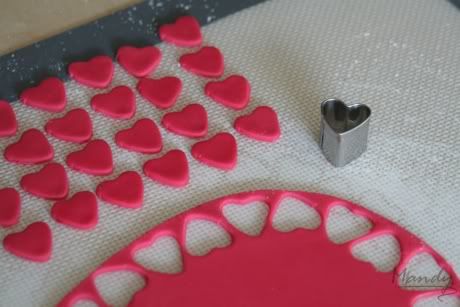 I'd never used fondant before and was expecting a bit of trial and error before I got it right but Fondant or Sugarpaste is actually really easy to use and I got it right the first time round, ok, I'm not sure I'd ever be patient enough to make those amazing sugarpaste flowers on wedding cakes, but I can certainly use it for my own, far more simple needs.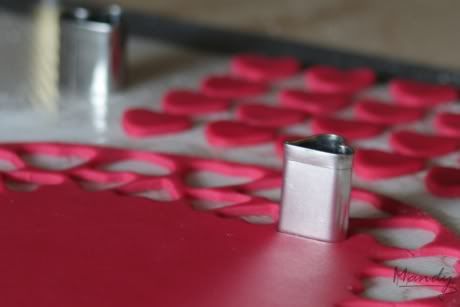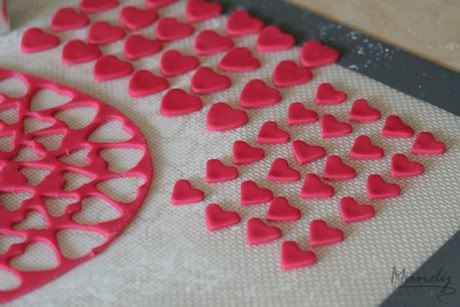 With the cutters I had, I decided on putting 3 hearts on each cupcake, 1 of the larger size and 2 of the smaller ones. I was really happy with the way they turned out and our friends loved them.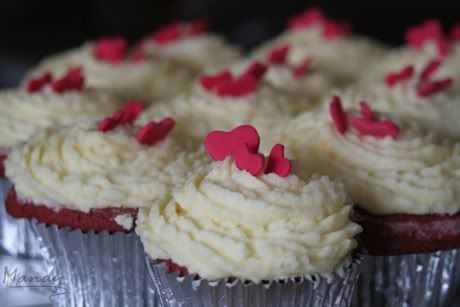 You're obviously not limited to just making red hearts. Buy a set of mini cutters and make purple flowers or black spades & clubs or yellow stars or whatever your theme calls for. Have fun!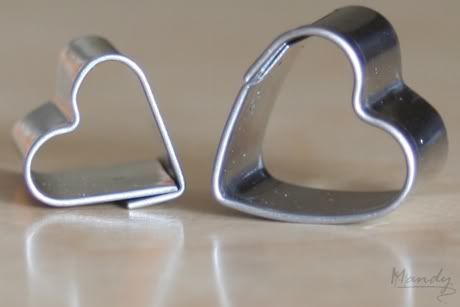 What You Need
±20g Fondant/Sugarpaste Icing
Paste Colouring of your choice
Small Cookie Cutters (My 2 hearts are 1cm & 1.3cm)
Rolling Pin
Icing Sugar (for dusting)
Method
Colour the fondant:
Dip a toothpick into the paste colouring and dab it on the fondant
Kneed the fondant thoroughly to blend the colour in
Repeat until you reach your desired colour shade
Make your shapes:
Lightly dust a clean work surface with sifted icing sugar
Roll out the coloured fondant, about 2-3mm thick
Cut out your desired shapes with cookie cutters
Dry and decorate:
Place the fondant shapes on a board covered with greaseproof paper
Allow to dry for several hours or overnight at room temperature in a moisture free place
Frost your cake or cupcakes with the icing of your choice and arrange the fondant shapes as desired, if using an icing that hardens, make sure to put your shapes on before icing has set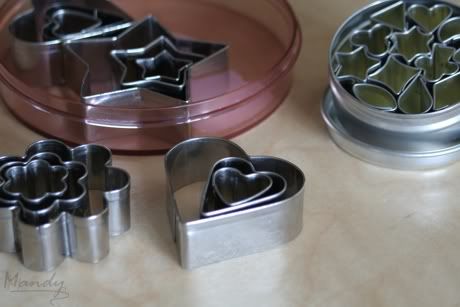 Fondant shapes can be made weeks ahead, store in an airtight container at room temperature
Fondant shouldn't be tacky and stick to your fingers, but if your fondant becomes a little bit sticky while working with it, kneed in a small amounts of icing sugar
Fondant starts to dry when in contact with air so work quickly once it's been rolled out
To store the remaining uncoloured fondant, wrap tightly in cling wrap and store at room temperature
Store bought fondant doesn't contain raw egg so if you make extra fondant decorations, store them in an airtight container and in a moisture free cool place and they'll keep indefinitely and can still be eaten.